The right meal for your group
Diverse groups need lots of options and that's our specialty at Pizza California. We've got you covered with a wide variety of pizzas that includes plenty of great vegetarian, vegan, and gluten-free options. You can choose from a variety of super-fresh salads as well. And, of course, everything is fully customizable.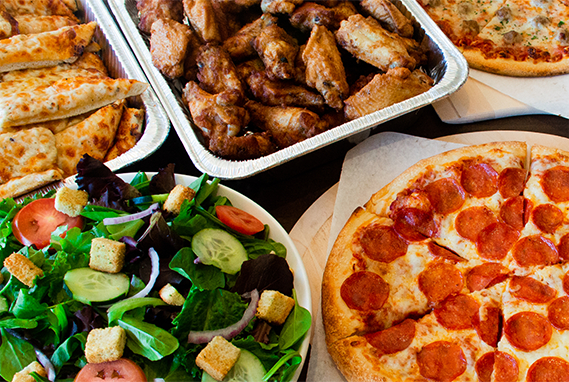 Perfect for meetings of any size
Whether you have just a few people or a few hundred, your group will love having Pizza California delivered to your next event. You'll find the right mix of fresh and delicious items in a variety of sizes to make your meeting or party a success.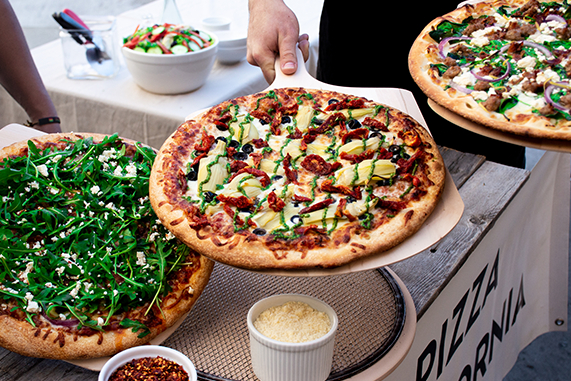 We are here to help you
Our experienced team members have helped plan menus for thousands of meetings, parties and special occasions. Let us help you get the order just right for your event, too.
Call us now (408) 573-7373
FREQUENTLY ASKED QUESTIONS
What size of groups do you serve?
We routinely deliver lunches and dinners for groups as small as just a couple people and as large as several hundred people.
How can I get a receipt for a past order?
Need to retrieve a past order for your records? No problem; we'll email or fax you a copy of your order: submit a request here or give us a call and ask for manager assistance.
Can I get delivery?
We specialize in delivery! As long as your location is within our range and meets our minimum size for your destination, we will bring it to you and get it set up just right for your group.
How should I place my order?
We love to assist our guests with their orders and make sure every detail is just right. We are here for your phone call starting at 8:00am daily; give us a call now. Or, if you prefer, online ordering is available 24/7. Get your online order started here.
How do I set up a corporate account?
We make it easy for our corporate customers who prefer to pay on account. You can simply sign for orders and be billed monthly. Get your account application started here.
When do I need to place an order?
Most small-to-medium sized orders can be fulfilled within an hour or less of the time the order is placed. For larger orders or orders during our busiest times, we recommend contacting us a bit earlier to make sure we can provide you with the best possible service.