How it Works
When you buy awesome pizza, super fresh salads, tasty craft beers and more, you earn Rewards Points.
When you collect 100 Rewards Points, a $10 Off Award will be added to your account.
Redeem your Awards at PizzaCalifornia.com, over the phone, or in person for more awesome pizza, food and drink.
List of Benefits
Earn rewards good for free food and beverages with every 100 points accumulated
Find out right away about extra promotional offers and special rewards
Receive exclusive Pizza California specials and opportunities for bonus points
Find out about new menu items and Limited Time Only deals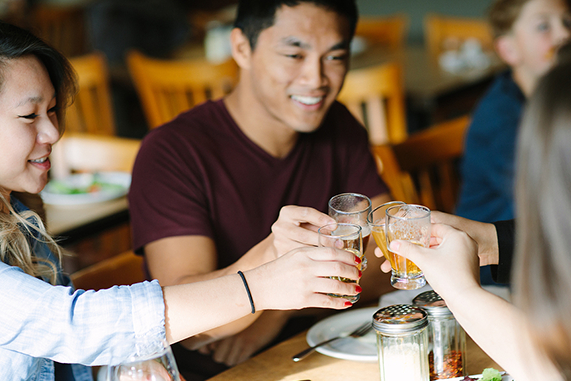 More details
Awards codes are sent via email. The code is required to redeem an Award.
Points take 24 hours from the time of payment to appear.
You will have 120 days from the day an Award is earned to redeem it.
Points and Awards have no monetary value.
Only one Pizza Cali Rewards account can be tied to each transaction.
Points are awarded only for food and beverage items. Tax, gratuity and delivery charges will not accrue points.
A Point is awarded only for each full dollar spent in a single transaction. For example, a purchase with a subtotal of $10.55 is awarded 10 points.
Awards cannot be used to purchase gift cards nor are points awarded when using gift cards as payment.
Points are not earned, nor can Awards be used, on orders placed through any third-party order-taking or order-delivery service.
Any and all terms of this program may be altered at any time.